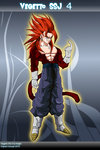 Super-Saiyan-4 Vegito in battle
Edit
SSJ4 Vegito faced
Super Shenron
and he is the fusion of Goku and Vegeta.


When SSJ4 Vegito uses hiss full power he gain electricity and his hair turns red.
He can use these following attacks.:
Final Kamehameha
Kamehameha
Final Flash
Spirit Bomb
Hair extention
Final Dragon Flash
Spirit Ball
Spirit Sword
Saiyan Shield
Full Power Final Kamehameha
Ad blocker interference detected!
Wikia is a free-to-use site that makes money from advertising. We have a modified experience for viewers using ad blockers

Wikia is not accessible if you've made further modifications. Remove the custom ad blocker rule(s) and the page will load as expected.