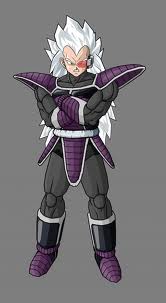 Kaddish Quote:
Stupid earthlings, stupid father,mother you and everyone else betrayed me.
This is Kaddish, the son of Gohan and Videl and Brother of Pan. He was born a SSJ5 since Videl and Gohan were very powerful. Although he is not as strong as Gohan he is a very powerful Saiyan. He loves the body armor and the scouter. He is not very smart like his father but he is a great fighter. They had him sometime after GT. Although he is a son of Gohan he was killed by his own father. He is currently in Hell. He has seen Vegeta and thought he was stronger than him but he was wrong. He is able to go into SSJ6 with the help of his father.
Ad blocker interference detected!
Wikia is a free-to-use site that makes money from advertising. We have a modified experience for viewers using ad blockers

Wikia is not accessible if you've made further modifications. Remove the custom ad blocker rule(s) and the page will load as expected.